[ad_1]

Global provider being asked to pledge not to insure controversial pipeline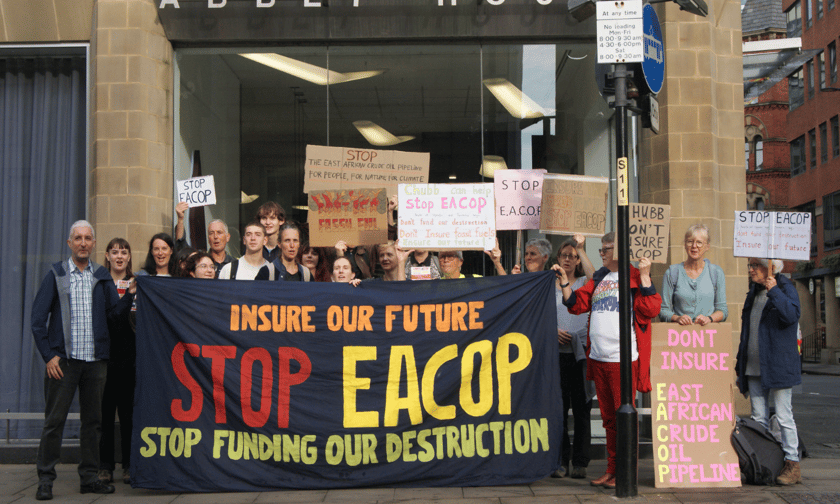 A total of 22 insurance companies have already committed to not insuring the East African Crude Oil Pipeline (EACOP), and protesters (pictured) outside Chubb's Abbey House office in Manchester last Friday were urging the global insurer to make the same pledge.
Aside from their placards and banner, the Stop EACOP campaigners also brought with them recorded messages from those who would be affected by the planned pipeline in East Africa. They are opposing the project not only because of EACOP's contribution to climate change but also due to its impact on wildlife and on local communities.
"EACOP is a climate bomb project fraught with perilous consequences including, but not limited to, putting in danger the livelihoods of forty million people around Lake Victoria and putting in danger animal species in Queen Elizabeth national park," Stop EACOP Uganda's Abduh Twaib Magambo said in an emailed release.
"These include elephants, zebras, giraffes, and many more. The project has further gone an extra mile of putting people's lives in danger due to displacements and threats from state."
Meanwhile, Manchester-based activist Martin Porter commented: "The consequences of climate change are with us now, and it's only going to get worse. The seven hottest days of the last 100,000 years happened this summer resulting in heatwaves and floods around the world.
"Africa is the continent that has contributed least to climate change, but it is set to suffer the most. Even the International Energy Agency has said the age of fossil fuels is over. Continuing with this pipeline is now madness. We hope Chubb Insurance agrees and will pledge not to insure it."
What do you think about this story? Share your thoughts in the comments below.
Keep up with the latest news and events
Join our mailing list, it's free!
[ad_2]

Source link