[ad_1]

Money Rebellion protest targets tournament sponsor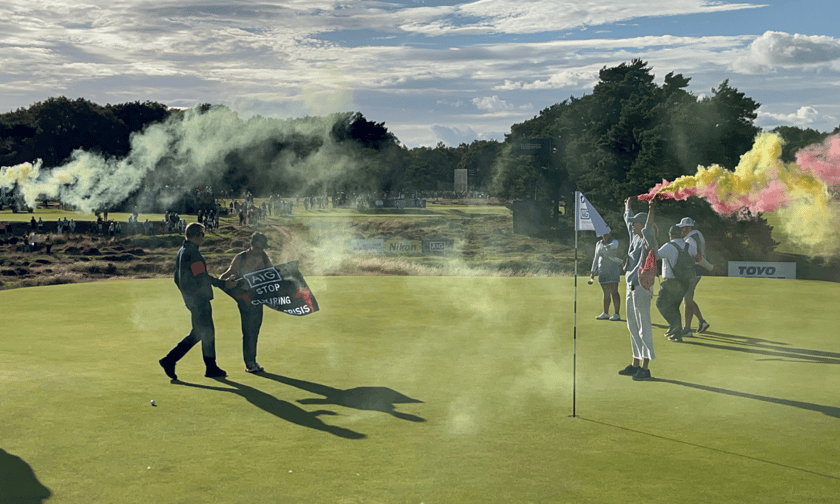 Image credit: Money Rebellion
Money Rebellion protesters disrupted the final round of the AIG Women's Open on Sunday in the UK, targeting the tournament's sponsor.
Setting off flares and holding up "AIG is a climate criminal" and "AIG stop insuring climate crisis" banners, members of Money Rebellion conducted the protest on the 17th green at Walton Heath before being apprehended by the police.
"AIG is insuring climate breakdown by enabling deadly fossil fuel projects to pump out more and more greenhouse gasses," Money Rebellion's Jane Clarke said in an emailed release. "AIG knows the science and is happy to protect its profits by cutting off insurance for homeowners facing floods and fires, caused by climate change.
"The executives making these decisions are climate criminals. Instead of sponsoring golf events to clean their image, they must stop insuring all new fossil fuel projects now."
Meanwhile Charley Hull, who lost to Lilia Vu, reportedly called the protesters "a bunch of idiots" following the disruption. 
The Telegraph quoted Hull as saying: "I suffer from asthma but didn't have my inhaler on me, and that stuff was really thick, so, no, it was not nice. I wasn't scared when it happened, just thought they were idiots. Someone said they are protesting about oil, but how did they get here today? Drove probably."
A sister movement to Extinction Rebellion, Money Rebellion said AIG is one of the world's leading insurers of oil & gas projects and has refused to rule out support for the proposed East African Crude Oil Pipeline.
What do you think about this story? Share your thoughts in the comments below.
Keep up with the latest news and events
Join our mailing list, it's free!
[ad_2]

Source link